The grounds surrounding the U.S. capitol remain remarkably true to Olmsted's original plan. Amazing! You'd think some Senator would have snuck through a bill appropriating money for a really lavish monument on the grounds — or that Congress would have paved the whole area over to create really primo parking.
Olmsted started working on the 50 acres of grounds surrounding the capitol in 1875. It was his first major commission after the dissolution of his partnership with Vaux. Yes, Olmsted had to battle members of Congress hard, and for many years, to get approval and the necessary funds. But check out the comparison below: Olmsted's original plan followed by a sign currently on Capitol Hill. Remarkably similar, right? For once, a timeless design hasn't been destroyed over time.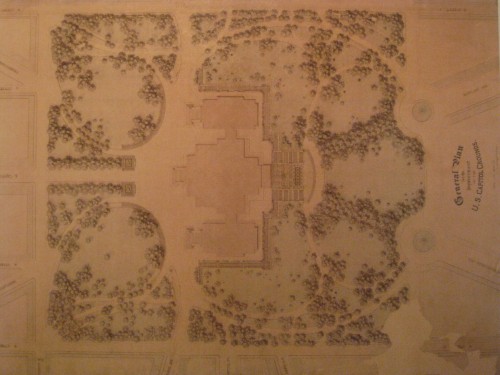 Especially enjoyed seeing the Summer House (photo below) on the grounds. Olmsted designed this as a kind of way station for weary visitors to the nation's capitol. That would be me; it's above 90 degrees today. The Summer House has benches and drinking fountains. In Olmsted's day, it even had communal metal water-cups attached to chains. "This place is a little jewel," says Steve Livengood of the U.S. Capitol Historical Society.